Strongest Wooden Work Benches!


PRESSURE TREATED TIMBER.
At Wells Timber Products, our Wooden Work Benches are built from 89mm x 38mm thick Swedish slow grown timber for strength and durability, rather than forfeiting the quality in favour cheap timber. Our timber has been fully pressure treated and will, therefore, ensure their strength and durability.



 FULLY SUPPORTED JOINTS.
Probably the most important part of ensuring the strength, support and durability of these wooden work benches is ensuring that there are a number of cross braces. Furthermore, these cross braces offer all of the support that the joints need, while adding extra support to the existing frame.


HIGH QUALITY FIXINGS.
Most noteworthy, these heavy duty work benches are built with high quality 4 inch coach bolts, to secure all sections while providing stability and strength. This is complemented by using good quality screws to offer maximum penetration, therefore ensuring that the parts are very well secured. As a result, the work benches are of the highest quality.
How strong, You ask?
Due to our bold claims about the strength of our products, you were probably wondering just how strong our heavy duty work bench is, rather than just taking our word for it?
As you can see here, these wooden work benches are designed and hand built to withstand almost anything. As a result of the excellent design and materials, they certainly pass the "Citroen Xsara Picasso test"! (1,313kg or 2,894.7lb).
We strive to maintain the highest standards, while also exceeding our customer's expectations at all levels.
Our wooden work benches are built to last, hence our pride in their strength. Due to a great design, high quality timber and strong bolts, they have enough strength to support a car! As a result, we are confident that our heavy duty work benches are the strongest available and furthermore, they are available at amazing prices!
Wooden Work Benches for:


RETAIL SHOPS.
While our Solid wooden Work Benches are sold to a multitude of people and businesses, one customer showed us how great they look in a retail environment. When given quick lick of paint and a nice varnish finish, our work benches are great as a retail display and are very cost effective.



WORKSHOPS.
Because of the sturdy design and solid materials used in building our Wooden Work Benches, they are a great addition to any workshop or even industrial store fronts. Due to differing space from place to place, we even offer custom built work benches. Consequently, you can have these built to your exact requirements.



GARAGES.
commit ourselves to complete all projects within the timeline set with our clients. use the best of technology and tools to ensure that all jobs are done quickly but also giving attention to details and ensuring everything is done correctly.



COUNTRY SHOWS, FAIRS & FESTIVALS.
Due to the easy assembly of our wooden work benches, while also being shipped flat-packed, they are great for use at country shows, fairs and even festivals. 
Work Benches for all situations.
Take a look at some examples of what our customers have done with the work benches we supplied for them!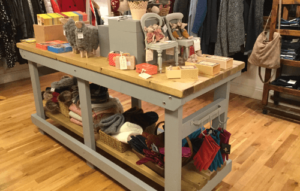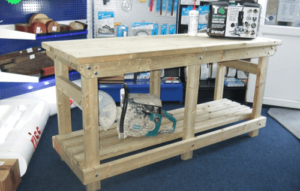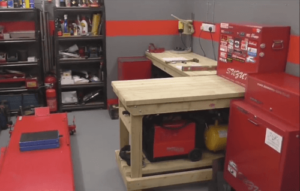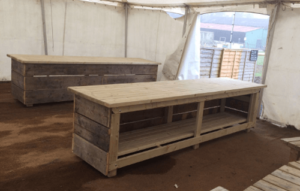 SEND ME MINE, NOW!
Easy Assembly Work Benches.


SIMPLICITY.
Our Solid wooden Work Benches offer absolute simplicity in assembly because while they are shipped unassembled, we also provide what are probably the most simple instructions for you to follow. As a result, your work bench will be ready to use in just a few minutes.



JUST 4 PIECES.
Due to your need to be up and running quickly and because we want to supply these at a low and affordable price, we ship these work benches in just 4 pieces. (Base, Top and 2 Leg sections). Consequently, these work benches take up less space in transport and storage while also reducing the cost of shipping.



3 SIMPLE STEPS.
Our work benches are probably the easiest to assemble due to only having 3 simple steps to follow. The process is so simple that you could probably do it based on just the photos shown here. You will literally have this assembled in less time than your average flat-packed items and as a result will be able to use your new work bench quickly, rather than spending hours trying to follow some confusing instruction pamphlet.
It's probably the easiest assembly.
View our Wooden Work Benches now!
Next

Previous

Work Bench Testimonials
I ordered a 6 foot wooden work bench on Sunday evening and it was delivered by 9.00am on Tuesday morning. Two heavy parcels. Assembly was straightforward with the provided carriage bolts, washers and nuts. The finished bench is great: heavy and robust. The integral shelf gives storage space and adds to the overall bracing and stability. We reckon the bench will stand up to any job...
ORDER NOW!
David
This is a great wooden work bench, it really is heavy duty and mighty strong as well as being great value for money – I doubt I could have built one myself for much less. The service from Wells timber was great; It was built on Wednesday, shipped on Thursday and delivered by lunch time on Friday – fantastic service for a custom build.
ORDER NOW!
Bob Dowty
Ordered the 4ft version late last Thursday – Delivered early the following Monday (Good Start) Frankly the quality and the accuracy of cuts and drilling centres, and the general dimensions and construction far exceeded my expectations....
ORDER NOW!
Colin
I bought a 7ft one of these back in February. It's a great wooden work bench. Very strong and sturdy. Well made. I'm thinking about getting another one.
ORDER NOW!
Peter
Order Wooden Work Benches
While the video is actually about Dellboy's Garage, it also reviews our Heavy Duty Work Benches, therefore you can visit https://www.youtube.com/watch?v=1FIXFx4504o&t=557s if you wish to watch the full video. We believe this is probably the best independent review of our products and consequently would encourage you to hear for yourself, rather than just take our word for it!
Wooden Work Benches Reviewed.